Summer holiday in the Hochkönig region
Tradition, sport & and many mountain experiences!
The great outdoors and mountains around the Hochkönig offer active holiday-makers plenty of opportunity for sporting activities especially in the summer. Explore the region whilst hiking, biking or climbing or enjoy the many attractions in the valley with your free Hochkönig Card, which offers, amongst other things, free admission to the open-air pools in Mühlbach and Maria Alm. A further benefit is the free use of the summer mountain lifts, which is ideal for all those who want to ascend to lofty heights quickly and conveniently.
Our holiday apartments in the Landhaus Hochkönig are simply perfect for your hiking holiday in Mühlbach as you can start many of the tours right on the doorstep.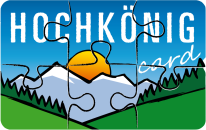 The free Hochkönig Card allows our guests to enjoy many free recreational offers and reductions such as free use of the summer mountain lifts.
Let's go kids – there's plenty of fun and action in the Hochkönig region! 
Would you like to go on a fun family outing? Tonis Almspielplatz ("alpine playground") in Mühlbach and the Erlebnisberg Natrun ("adventure mountain") in Maria Alm, which is 27 km away, offer adventurous kids a forest slide park, adventure playground, archery trail, wild animal enclosure and much more. Things get spooky on the "Geisterberg" ("ghost mountain") in St. Johann im Pongau (33 km).
And there is, of course, also always something happening on our farm, which is directly next to the Landhaus Hochkönig! For children, the nature here as well as our playground and the chance to get to know the farm animals is great fun – it's a real holiday haven for kids!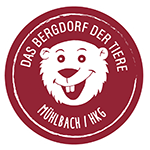 Calling all kids!
Get involved in the exciting and varied kids programme which will take you to more than 30 great excursion destinations in the region. Look forward to cute petting zoos, the "open stable door day", the "ant and groundhog themed path", adventure farms, riding and exciting animal and adventure days, in which you will even be able to meet some alpacas.
And, something which is sure to please your parents: these great holiday opportunities are all included on a holiday in our Landhaus Hochkönig!